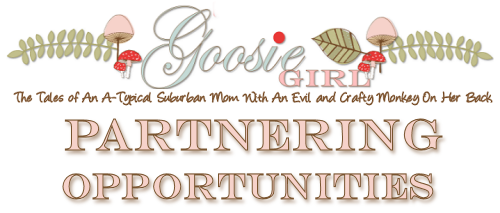 We have worked with several public relations and marketing firms to further the reach of their client's brands. Through writing feature stories on the Goosie Girl blog and intertwining that with the large social media presence Goosie Girl enjoys, we are able to assist PR firms, advertising agencies and small businesses in meeting their goals of increased visibility in the online marketplace and across the internet, worldwide. We review products from micro businesses to international brands.
In general:
What We love: to feature micro-businesses with a focus on handmade products. However we also adore discovering new nnovative products for children, moms, families and thrifty folks. We cover some events we find relative to our niche readership., i.e., we're a small business blog powered by a work at home mom with her own business. We've been around the block a time or two (been in business for almost 11 years as a matter of fact and this blog has a proven readership that grows every single month.)
What we do: We like to work with PR firms, Handmade and Small Business Owners, Boutique Designers, Artists, Creators, and other Creative folks such as photographers, musicians, comedians, those in the arts and more. We endorse craftivism and we also love fashion, inspiring stories and shopping trends. We like to blog about new books, other bloggers, and occasionally travel. If it has to do with creating… such as sewing, quilting, fashion, designing, DIY projects … then we're all in! We love doing product reviews. We generally ask for a sample product to be sent to us, so we can authentically blog about the item. We will give an HONEST and down-to-earth review of the product, the craftsmanship and quality of the item. We blog with integrity and will not do a product review without a sample. There is occasionally a fee for these blogs, please inquire about that if you are a commercial entity, a public relations or marketing firm. Generally we blog in exchange for the product, based on if we think it will be appealing to our readership. We reserve the right to deny any product due to any reason, at our discretion. With a unique product, usually, apparel or accessories, we can set up an individual photo shoot with a model, or product shots of our own in addition to your standardized, provided product photos. There may be a fee for those services, inquire with us regarding this. We may keep the sample product for our own personal use, offer it in a giveaway to our followers, or re-sell it at our discretion. We are also happy to serve as a resource to YOU, fellow bloggers, industry insiders, authors, journalists and the like. We are considered experts in our line of work, in social media for small business, entrepreneurship, craftivism and the handmade movement, in addition to small business branding and marketing~ we are also DIY published authors.
We are honored to have worked with these brands, agencies, stylists and publicists
 (a very small sampling, the list is too extensive to publish)
Berlin Rosen
ChicExecs
Lil Panda
Belle et Bonne
SCS Direct
Candy Lipz
Cool Universe
Hugrz Boot Wraps
Schwartzkopf Got2B
See, Saw, Seen Eyewear
Waldo, Sluggo, and Me
Hanes/Leggs Footwear & Hosiery
Thames & Hudson Publishers
Primigi Footwear
EOS Skin and Beauty
Bitsy Bands
B and N Laundry
Ase-One Tattoo
Author, Rachel Kodanaz
National Football League
Jane
Swoozie Beau Coup
Best Bully Sticks
Gazelle
Adidas
Nike
Gymboree
Kardashian Kids
Judith Leiber Couture
La Rue Chic Boutique
Halo Sani Cuffs
Obagi
Sente
Clothworks: American Made Brand
Pfiffer Publishing
Cute-Z Crafts
Helmet Band-its
Seaplane Shirts
Waldo Sluggo And Me
Hopeless Designs
Hollywood Swag Bags
Glam It Up
Moja Works
Sani Cuffs
Sis Boom
Teen Vogue and Penguin Young Readers
Blink PR
Jill-E Designs
B and N Laundry
WraPurse
Earnshaw's magazine
Mamie's Toffee
—————————————————————————————————————————————-
For information about partnering with Goosie Girl for a feature story, product review or social media shout out, please email us at : GoosieGirlBoutique@gmail.com
—————————————————————————————————————————————-
Some recent feedback:
Comments from Account Coordinator handling WraPurse
---
Comments from Account Coordinator handling Belle et Bonne: 

—————————————————————————————————————————

Comments from Account Coordinator handling Primigi and Gore:
—————————————————————————————————————————————-

Comments from Public Relations Account Representative handling EOS Lip Balm:

—————————————————————————————————————————————-

email from the author of  "Living With Loss: One Day At A Time" 

"Heather,

Thank you for your blog "shout out" about my book — Living with Loss, One Day at a Time. I loved the article, the pain and the feeling of hope all in one blog entry. I look forward to hearing what your readers think so please pass along any feedback you may receive. I also love your website and your boutique, how special. I promise to reach-out if I come to Chicago in the near future.

Thank you for believing in me and the book.

With hope,
Rachel
Rachel Kodanaz.

—————————————————————————————————————————————-

Display Advertising Information

Goosie Girl has several advertising programs available. Advertising is so inexpensive, you can't afford NOT to advertise with us.

Display Advertising Prices (per MONTH)

We suggest a minimum of three months, but one or two month runs are welcome.

All Advertising is done on a monthly subscription basis through Paypal, unless pre-payment is made. If you pre-pay we will invoice you directly, one time through paypal.

---

Rates:

One Month: $25.00

Two Months: $50.00

Three Months: $75.00

(Pre-Pay for Three Months and Get 1 Month Free)

Four Months: $100.00

Five Months: $125.00

Six Months: $110.00

(Pre-Pay via Paypal for 6 months and get 1 month Free)

Periodically, we offer advertising specials to our newsletter subscribers and social media followers.

Be sure to follow our social media feeds to take advantage of sales & special offers for advertising on the Goosie Girl Blog. For advertising lengths of more than 6 months, email our offices for a custom quote: goosiegirlboutique@gmail.com

—————————————————————————————————————————————-
Recent statistical information about our blog and social media reach 

Facebook Statistics
All time high blog statistics – 3rd Quarter 2014: