For those of you that have been following my facebook page since March at least will know that my family has been socked with quite a bit of rough stuff of late. In March, My mom (Grandma Judy) had a stroke and has been in hospitals, nursing homes and staying at my Aunt's house. It's been such a peculiar feeling around our home without our landmark of "Grandma Judy" . She was a constant, a source of comfort and gosh, we were really all missing her. This past weekend she came home to stay for good and it was SO WONDERFUL.  She's doing so awesome, and we are so proud of her and how hard she worked through physical therapy, speech therapy, ICU stays, hospital stays, nursing home & recovery time… it's been rough, but she pulled through like a champ & we are so very glad to have her home now.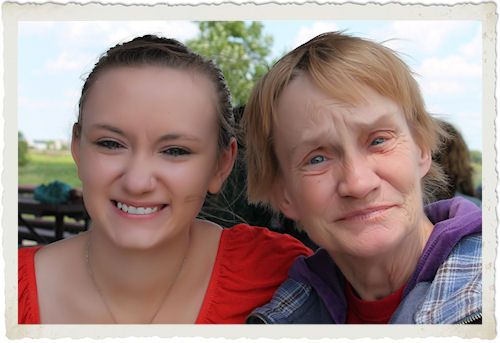 Kayla (my daughter, The Coupon Kid of Chicago & our beloved Grandma Judy)
My dear friend, Jennifer Paganelli, the creative force behind the Sis Boom brand recently sent me a lovely present ; A copy of her brand spankin' new book, Happy Home and I have to tell you, I simply fell in love with nearly every single pattern in the book. From beautiful pillows,to tablecloths & home accents. I was completely smitten with the whimsical vintage banner pattern.
We decided to give it a try the other day (Just call me "Julie McCoy, Cruise Director~ hehe). We used to do crafty stuff together all the time, the three amigos, testing out ebook patterns, making gifts for relatives & friends & with the arrival of Jennifer's book ~ I thought it would be a great bonding experience for us, and and a terrific way to celebrate Grandma Judy's homecoming.
In this gorgeous collection, Jennifer Paganelli shows readers how to whip up twenty-one beautiful accessories to transform their space into a sunny, happy home. Each project showcases Jennifer's fresh, whimsical style—from luxe drapery to cheery tablecloths and napkins. Featuring simple step-by-step instructions, a comprehensive glossary of techniques, pattern sheets tucked into a handy front pocket, and lush color photos, this book makes it exceptionally easy to pretty up every room in the house.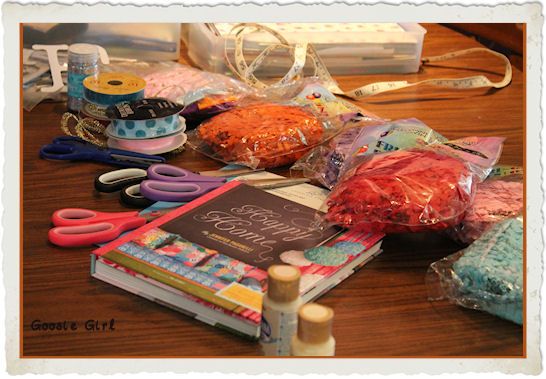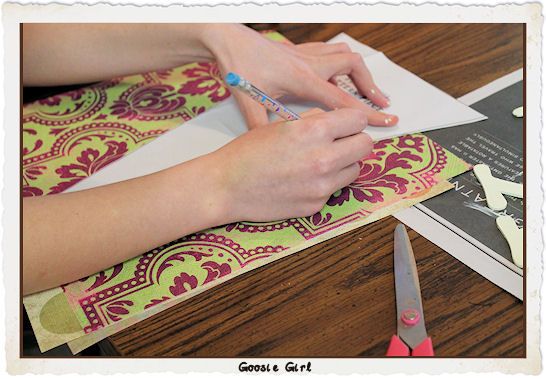 (Recognize that print? we used authentic Sis Boom scrapbooking paper from the "Girlfriends" collection that I happened to have in my scrapbooking stockpile! Don't you just LOVE the colors Jennifer mixes together? )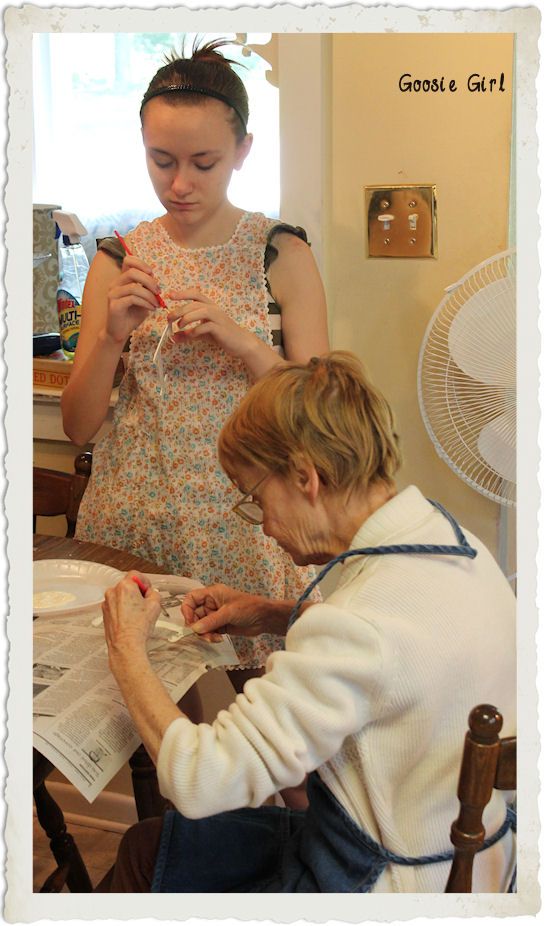 At first, Grandma Judy was leery, this was her 1st crafty project since having a stroke in March. She said,
"I don't know if I can do this stuff anymore"… soooo JUST like what she let my swim instructor do to me when I was five years old… I threw her in the deep end and gave her an opportunity to sink or swim…
I didn't give her a chance to even object… I just said, "Well, we will soon find out, won't we?"
I handed her and Kayla an apron and began my supervisory duties.
She took the paintbrush to the chipboard letters and began to paint. She did great!
(I think it helped build her confidence in herself & her abilities a little bit too)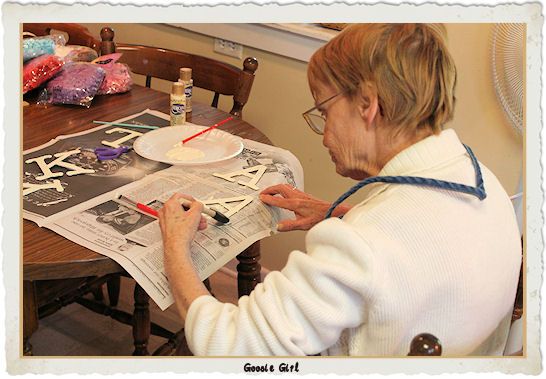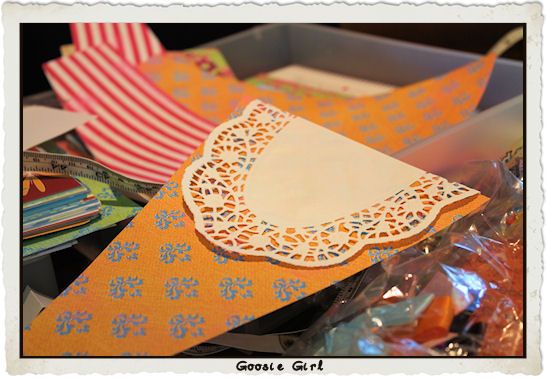 Here's Kayla with the finished product, she LOOOVED the tissue festooning SO very much, we changed up the banner a little bit and varied if from the one shown in the book. She added the festooning all around each pennant shaped "flag" I think it looks great the way she embellished it up…
and she proudly has it hung in her room… in OUR Happy Home.
Tags: amazon, arts, banner, birthday, book, boutique, card making, craft, crafts, custom, diy, ebook, embellishing, embellishments, etsy, fabric, festooning, handmade, how to make, jennifer paganelli, martha stewart, paper, party, patterns, patterns for, pdf, photo prop, pinterest, raggie bows, retro, sis boom, sisboom, small business, vintage, westminster