I hail from the Windy City, The City of Broad Shoulders, Hog Butcher to the world… or however that goes… It's true though, Goosie is a proud Chicago girl. There's no other city like the Chi in the world… and I am in the deepest kind of love with it. I was born & raised here and people tell me I have that "Good fellas" type of Chicaaahgo accent, I don't believe 'em but that's what I've been told! LOL!
Why do I love Chicago, you may ask? Where to begin? Hmmm…
The top 10 reasons I love Chicago….

(in no certain order)
1. The people are REAL, we don't put on airs & pretend we're something we're not.. we're scrappy, we're blue collar, we're as authentic as it gets baby! We're PROUD as hell of where we come from~ we may claim "North" or "West" or neighborhood "Wrigleyville" or "Bucktown" affiliation, but when it all comes down to it,  we LOVE that toddlin' town, and would rather die than be from anywhere else! We're fierce about loving our hometown too!
2. Da Bears… Today happens to be a HUGE game for our Bears (2nd round of playoffs against the Seattle Seahawks! GO MONSTERS OF THE MIDWAY!) and it's like the world stops when the Bears play… the grocery stores are virtually empty, everyone puts on their orange, and in my family there is usually some big meal concoted around the Bears games… we love Da Bears and truth be told, YES, we REALLY are like Da Superfans of '85 SNL fame!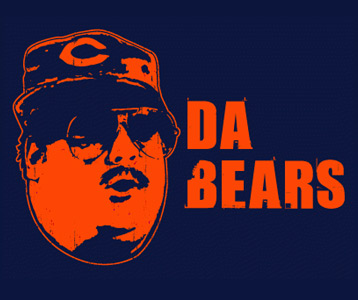 3. WE RESPECT THE CHAIR! Where else can you save your parking spot in winter with a folding card chair and have people respect it?  This is the way we do it in Chicago: In the winter, if you have street parking, you shovel your own spot in front of your house, and then you put a card chair there to save it so nobody else takes it… EVERYONE respects the card chair!

Believe it or not, some yuppy neighborhoods ( Read More Here) are trying to do away with the generations old card chair tradition…  In most neighborhoods, removing someone's chair and parking in their spot is the equivalent of spitting on someone's mother… it's a definite NO-NO! Moving the chair is like signing your own death warrant… no one dares tread those dangerous waters.
This is the biggest joke I have ever seen… I laugh in their general direction
4. Chicago Style Hot Dogs make the world go 'round! Not only are they tasty… the toppings we use are totally unique! No where else in the country do people use the condiments we use on our dogs! We use fresh tomato, relish, mustard, pickle, onion, hot peppers and… wait for it…celery salt on our dogs! NO ketchup you may ask? Hell No! That's by request ONLY! EVEN if you say you want a hot dog with EVERYTHING… Ketchup won't be on it!

5. Wrigley Field! Chicago is home to the "Friendly Confines"! One of the most historical ballparks in the country and we love every ivy covered inch of it!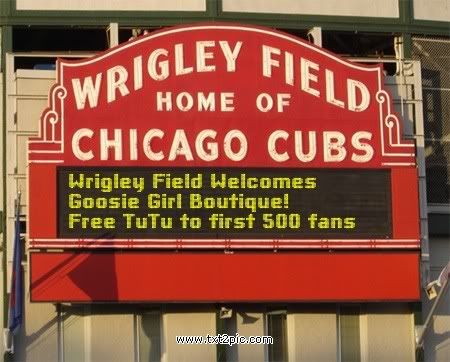 Whether you are a Cubs fan or one of those other :rolls eyes: Chicago fans
Wrigley Field puts on a hellofa party! Cubs games are a ton of fun and a great afternoon (or night since adding lights back in 1988) of family fun! Here's a fun fact about our ivy covered stadium:
Wrigley was the last ballpark to play night games. The lights were finally lit on August 8, 1988, after 5,687 consecutive day games. That game was rained out after 3½ innings, and the first official night game took place the following evening against the New York Mets. Lights had actually been placed in the ballpark for installation in 1941, but Wrigley instead donated them to a shipyard for the war effort the day after Pearl Harbor. In the late 1980s, however, Cubs management insisted that the team was in danger of leaving Wrigley if lights weren't installed, and Major League Baseball threatened to make the Cubs play postseason games at Busch Stadium in St. Louis. (info courtesy of Fun Facts About Wrigley)
*Goose's 1st night game was also my 1st date with Dave, April 27, 1990~against the Padres, LOL
6. Our neighborhood bars! No true Chicagoan has yet to find a corner neighborhood bar with a weekday beer special that s/he does not love!


We Chi-Town folks are just as fiercely loyal to our neighborhood bars as we are about our fair city! Whether it's a crap hole tavern with no windows, save for an odd shaped diamond piece of glass in the front door that lets in one dusty ray of sunshine between the hours of noon-1pm..or whether it's a trendy nightspot, we LOVE "our spots"… we are creatures of habit, and we will continue to patronize the same bar year after year. We know the old timer on the stool at the end of the bar will always be there, we know our beer will be served up nice & warm in the same dirty old glass…but we won't stop going there because it's OUR BAR!
7. THE BLUES! This wouldn't be a blog about Chicago without paying homage to the FANTASTIC musical genre that calls Chicago home! The blues originated in Chicago around the same time as the "Great migration" of southern black workers to find work in the north, such as Chi-Town!  Originally, the blues was street-based music, but it evolved to a super popular sound and thank GOD it did!  We have soooo many awesome music venues in this city dedicated specifically to the blues~ seriously, if you ever come to Chicago and DON'T go to a place such as Kingston Mines, Buddy Guy's Legends, or the summertime Chicago Blues Festival then you are missing out.


Buddy Guy, an amazing blues artist.
8. St. Patrick's Day in Chicago kicks the blarney out of any other city, hands down! We dye the Chicago river green, we throw an amazing party filled with parades that almost rivals mardi gras in my opinion,  and we stay drunk for days on green beer! If you're planning a trip to the Chi, DEFINITELY plan it around St. Patty's day if you're looking for an amazing party trip!
Chicago St. Patrick's Day 2011 Events & Party Guide
9. John Hughes! Who doesn't LOVE movies such as Breakfast Club, Home Alone, Sixteen Candles and the pinnacle of Chicago filmography… Ferris Buehler's Day Off?! That man was amazing, God rest his soul! These movies capture Chicago on film like no other, and I do believe you have to be a Chicagoan to appreciate the subtle nuances of our city captured in his films: from the Evanston neighborhood shots to the house across the street from my house in
(a lesser known movie by Hughes filmed almost exclusively in the suburb I call home, West Chicago!) RIP John Hughes
10. Last but definitely NOT least…Mayor Richard M. Daley! This man is a freakin character! He embodies everything there is to love about Chicago… he's a short, fireplug of a fiesty guy!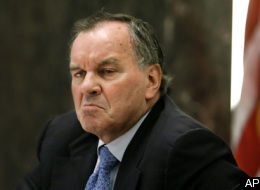 He says what he thinks, and doesn't give a rip who knows it! You either love the guy, or you hate the guy… and there's not much in between~ but he's been our mayor forever it seems, and this year, we will say good bye to the Daley era in Chicago. Being the nostalgic gal, I am, it's kinda sad in my opinion. Here's some hilarious Mayor Daley quotes that will be sure to put a smile on your mugs:
To a Chicago Tribune reporter, "If I put this up your butt, you'll find out how effective it is. Let me put a round up your, you know. and see how THAT feels" (speaking about the gun ban)
To a reporter, responding to Blagohevich's claim that the governor's impeachment trial was the Illinois Senate's attempt to remove him so it could increase taxes:
"I've said cuckoo once. I'll say it again: cuckoo!!"
"Scrutiny? What else do you want? Do you want to take my shorts? Give me a break…Go scrutinize yourself! I get scrootened every day, don't worry, from each and every one of you. It doesn't bother me."
(On his brother, Bill dropping a bid for Illinois governor)
haaaaaaa!! Love that guy… he makes me laugh….

Tags: blog, boutique, business, chair, chi-town, chicago, chicago style hot dogs, cubs, funny, goosie girl boutique, handmade, hot dogs, humor, Inspirational, irish, john hughes, mayor richard m. daley, northside, Personal, plow, removal, snow, southside, st. patrick's day, wrigley field