I have a serious fabric and ribbon addiction…
Well, let's be honest here, I like all types of creative supplies. I am a hoarder of all things crafty. I'm not gonna lie, it's the truth~ and the 1st step to recovery is admitting there is a problem.
OR
learning how to organize all of it better so that it doesn't look so bad to people who drop by! haa!
Here's a ribbon storage idea, and YES it is EASY and INEXPENSIVE! Sooo easy that my 12 year old son helped me install it! I went to my local hardware supply store Menards with my daughter and made my supply purchase.
Supplies needed
aluminum gutter (most are sold in 6 foot sections)
OR
PVC "Adjust-A-Spout" gutter drain + 2 end caps
2 gutter brackets for every 3 feet of gutter used (optional) OR you can screw/nail it right into the wall if you like.
Tin snips (optional if you'd like to trim your aluminum gutter to a custom size)
nails or screws (I suggest nailing/screwing every 2 feet or so)
Hammer or electric drill
I have seen other people using traditional aluminum gutters for ribbon storage, and that is what I was planning to buy~ HOWEVER, I was thrilled to see an alternative product that would work just as well (maybe even better??) Menards and most big box hardware / home improvement stores have a product called "Adjust – A – Spout" not only is it "green" ; i.e. made of Recycled post consumer waste PVC but I drive a VW bug and transporting a 6 foot section of aluminum gutter was not an option. If you have a van, truck or larger vehicle than me, feel free to use the traditional aluminum gutter section.
This is a photo of  my awesome alternative, the adjust-a-spout downspout for gutters in use as it was intended from the manufacturer
You can get them nearly everywhere , even on Amazon!
The adjust-a-spout is more expensive than the aluminum gutter. I paid about $16 for the 3 foot section and about $8 for the end caps and brackets, so I spent about $24 in all on this project as shown. (If you use an aluminum gutter & already have the tin snips, you'll be looking at about $10 for the whole project!)
If you're using the 6 foot section of aluminum gutter and want to trim your gutter into 2, 3 ft sections (or any custom size)~use the tin snips to cut your cutter into 2 equal pieces~otherwise, just use as 1 long piece if you have the wall space.
Step one: My 12 year old son hammered nails into the wall under my cork board for my studio.
Then we attached the brackets to the gutter as shown~ the gutter snaps right into the adjust-a-spout section. Then we snapped on the end-caps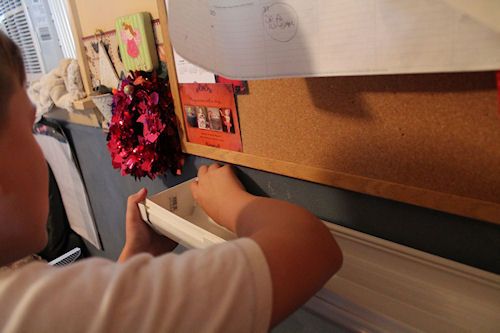 and then put the rolls of ribbon inside the gutter
Tip: the ribbon dispenses easier when you place them as shown, the ribbon end UNDER the spool
(like a roll of toilet paper) and over the edge of the gutter.

I LOVE my new ribbon storage center.
P.S.This works best for ribbon spools that are 4″ or less
in size.
If you enjoyed this, and find it helpful, please leave a comment (under the title of this blog post, where it says "comments") and let me know~ or help spread the word about the cool tips & ideas you find on the Goosie Girl Blog by hitting "Like" to share on Facebook, or Pin It on Pinterest. Thank you!!