6 West Chicago men were KIA in Vietnam, that's pretty slim for such a long conflict~this is one of them who made the ultimate sacrifice… 20 years old… not even old enough to buy himself a freakin beer by today's laws, BUT he laid his life down for us (each of us that call the United States of America home)
He is one of my biggest heroes everrrrr… if you've had a kid go through the West Chi HS system, you might recognize the name… Randall G. Jacob. Most people called him Randy around We-Go back then. He was born locally, the son of Mexican-American immigrant farm workers. He was a gentle giant, kind to everyone he met, not one person seemed to ever have a bad thing to say about him. His family resided in the "MacQueen Subdivision" of West Chicago (this is the neighborhood located NOW just west of Hawthorne's Bar & Grill ,just east of the new water treatment facility.)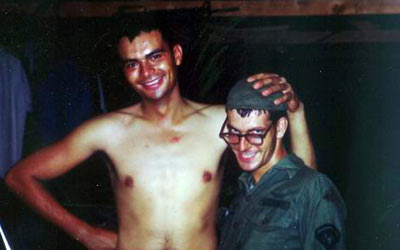 (on left) Randall G. Jacob, Spc5 US Army
Killed in Action, Vietnam 1967
He was a tremendous athlete, voted student council president of his class, and a Illinois state scholar, a fantastic football player, but blew his knee out 2 weeks before his high school graduation messing around with his friends throwing a football around at Reed-Keppler Park. That spoiled HIS chances of the free ride for college he had been offered. Instead, after his knee injury prevented his college football career he spent the rest of the year working in the General Electric factory in West Chi. Apparently, he disliked the factory position and he set his sights on college. He wanted more for his life. Who could blame him? His father wanted more for his son too, he had worked very hard many years, and had become injured himself in a farm accident. Randy enlisted in the US Army and was soon sent to a war half a world away. He served, and he served well, he achieved the rank of specialist 5th class, in a supply division of the military. (More specifically,  196TH ASHC, 223RD AVN BN, 17TH AVN GROUP, 1ST AVIATION BDE, USARV).
He had been in country only 6 months… out of a 12 month tour, on a steamy August day in the Quang Ngai Province of South Vietnam he was unloading supplies from a helicopter, took small arms fire, and died in the line of duty. (To see his complete profile on the Virtual Vietnam Memorial Wall, Click HERE)
His life was cut short tragically, he seemingly would of had so much to offer this world. His body was recovered, flown stateside and funeral services were held at the funeral home next to Tastee Freez on Fremont Street. Full military honors were given, a 21 gun salute, an American flag draped his casket, as Taps finished playing,  his half-blind, disabled father turned, faced mourners who were gathered at his child's graveside and he spoke to the crowd about his son's unfortunate death; and what he said gave me profound insight into where Randy got his commitment and ideal of duty and commitment to country.He said,
"In times of trial and war, communities such as ours must steel itself against losing it's young men to preserve freedom and what we hold dear. I love you, my son and I am so proud of you"
Randy has become my "adopted" hero, I wrote a similar story about him for the West Chicago Press when I worked there. While I was visiting the Traveling Vietnam Memorial Wall in 1998, it was then that I discovered who Randy was and for some reason, felt drawn to his "story". I have visited his grave 4 times a year, every year since 1998. On Memorial Day, Veteran's Day, His Birthday (Oct. 21) and the day of his death (August 21). As my children have been born, I have taken them with me, and they have grown to know all about Randy, he's like an uncle they never knew. He's the symbol of sacrifice, duty, loyalty, and service that my children (even my "big boys", the marines) know all about him. They identify with him as a regular guy, who gave the ultimate sacrifice, and isn't that what courage and bravery are really all about? stepping outside of yourself, and embracing the unknown, and answering the call on your life, hoping that there are great things in store for you?
In honor of Randy, Community High School, District 94 's Athletic director, and head football coach collaborate and decide together, which ONE, above average football player will receive a $1,000 football scholarship. The Randall Jacob Football Scholarship is the pinnacle of honor for a deserving student each year.  The traits they look for are leadership among peers, responsibility, trustworthiness, good sportsmanship and athletic ability. My boys talk all the time about how they want to grow up & play football for the Wildcats and maybe they will be the one to get the scholarship. This is my hope of course, but more importantly, I wish that they would embody the traits that Randy exemplified above all.
Photos of this year's Memorial Day visit to pay our respects at Randy's grave (2012):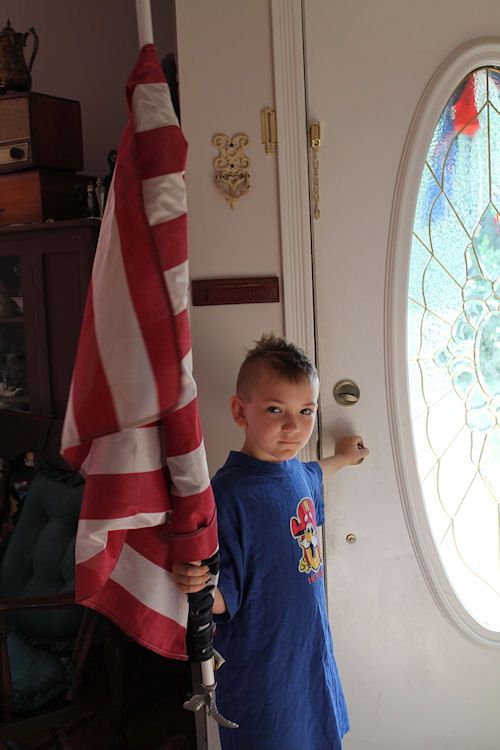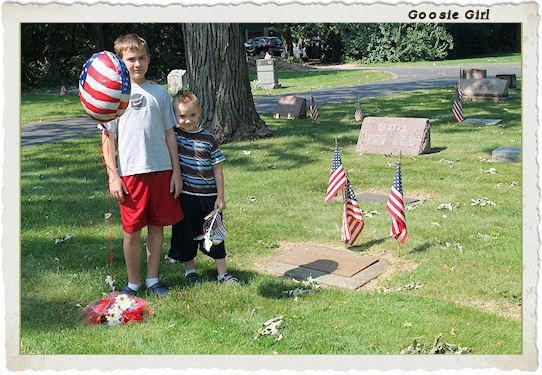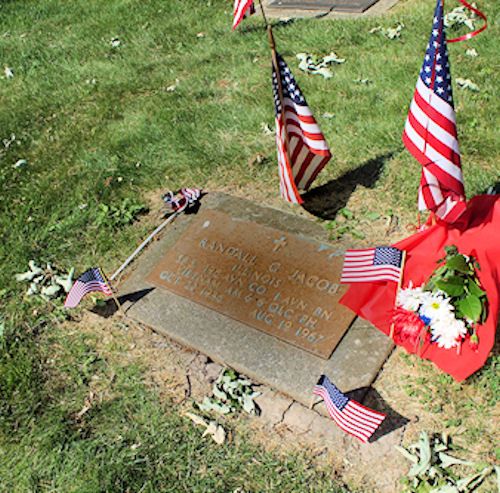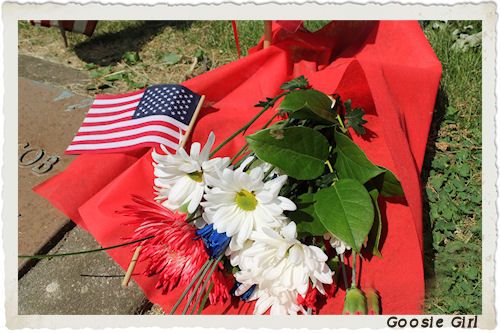 Happy Memorial Day, everyone. Please remember that this day is not just for hosting summer kick-off barbecues (although we WILL be doing that) , there is a meaning behind this day…
Formerly called "Decoration Day" ~ it was a way to honor those who have died in the line of duty for our country. Those who made the ultimate sacrifice for each & every one of us. When we lay our heads down on our pillows each & every night, we do it with the security & peace of mind knowing there are Randall Jacobs out there, just average men & women who have given up so much, sometimes EVERYTHING for us so that we can enjoy the freedoms we often take for granted.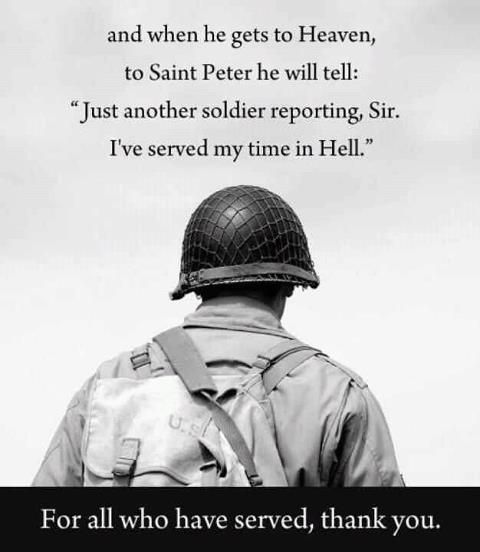 Rest in Peace Heroes