I just got a ziploc bag full of amish friendship bread starter! I'm so excited, I haven't made/done this in years, and I'm so happy about it!!

This is more than a recipe – it's a way of thinking. In our hi-tech world almost everything comes prepackaged and designed for instant gratification. So where does a recipe that takes ten days to make fit in? Maybe it's a touch stone to our past – to those days not so very long ago when everything we did took time and where a bread that took 10 days to make was not as extraordinary as it seems today.  When you've made your bread, you can give your friends a sample and the starter that made it! Then your friends can make their own and pass it along to their friends. This is why the bread is called "friendship bread". Many people make it regularly just because it tastes so good!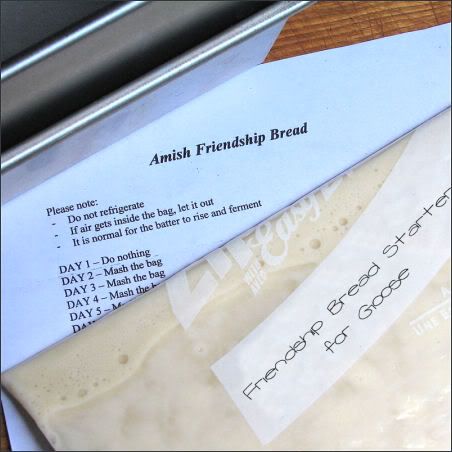 Amish Friendship Bread is a genuine starter bread. If you know someone with a starter, you are in luck. For those of you without access to a starter, here is an awesome recipe
The Recipe
Ingredients
1 (.25 ounce) package active dry yeast
1/4 cup warm water (110 degrees F/45 degrees C)
3 cups all-purpose flour, divided
3 cups white sugar, divided
3 cups milk
Directions
In a small bowl, dissolve yeast in water. Let stand 10 minutes. In a 2 quart container glass, plastic or ceramic container, combine 1 cup flour and 1 cup sugar. Mix thoroughly or flour will lump when milk is added. Slowly stir in 1 cup milk and dissolved yeast mixture. Cover loosely and let stand until bubbly. Consider this day 1 of the 10 day cycle. Leave loosely covered at room temperature.
On days 2 thru 4; stir starter with a spoon.
Day 5; stir in 1 cup flour, 1 cup sugar and 1 cup milk.
Days 6 thru 9; stir only.
Day 10; stir in 1 cup flour, 1 cup sugar and 1 cup milk. Remove 1 cup to make your first bread, give 2 cups to friends along with this recipe, and your favorite Amish Bread recipe. Store the remaining 1 cup starter in a container in the refrigerator, or begin the 10 day process over again
(beginning with step 2).
Footnotes
Editor's Note

Once you have made the starter, you will consider it Day One, and thus ignore step 1 in this recipe and proceed with step 2. You can also freeze this starter in 1 cup measures for later use. Frozen starter will take at least 3 hours at room temperature to thaw before using.